Who's Online Now
0 members (), 11 guests, and 6 robots.
Key:
Admin
,
Global Mod
,
Mod
General Discussion

Re: Oct 4-8: Seeking group with 4 permits avail for Day Use
805_backpacker
08/12/22
02:34 PM
I hit Mineral King around that same time. Very surreal experience. One morning the wind would be blowing heavy smoke into the valleys, the next would have the winds shifted as to bring clear skies. Woke up one morning at Mosquito lake #2 to see large, thick plume just on the other side of bowl. Rough going on the trail when it was at its worst, but wouldn't trade it for anything different.
3
385
General Discussion

Oct 4-8: Seeking group with 4 permits avail for Day Use
Evangeline
08/11/22
07:16 PM
Looking to join a group with 4 extra spots on their Whitney Day Use permit within the October 4-8 window. Had permits for 2020 and then the fires shut the forest down (yes, I cried), so really hoping to finally summit this year. The group I was potentially joining this year fell through, but I've still been training as if this is going to happen--please let me know if you have 4 permits avail, thank you!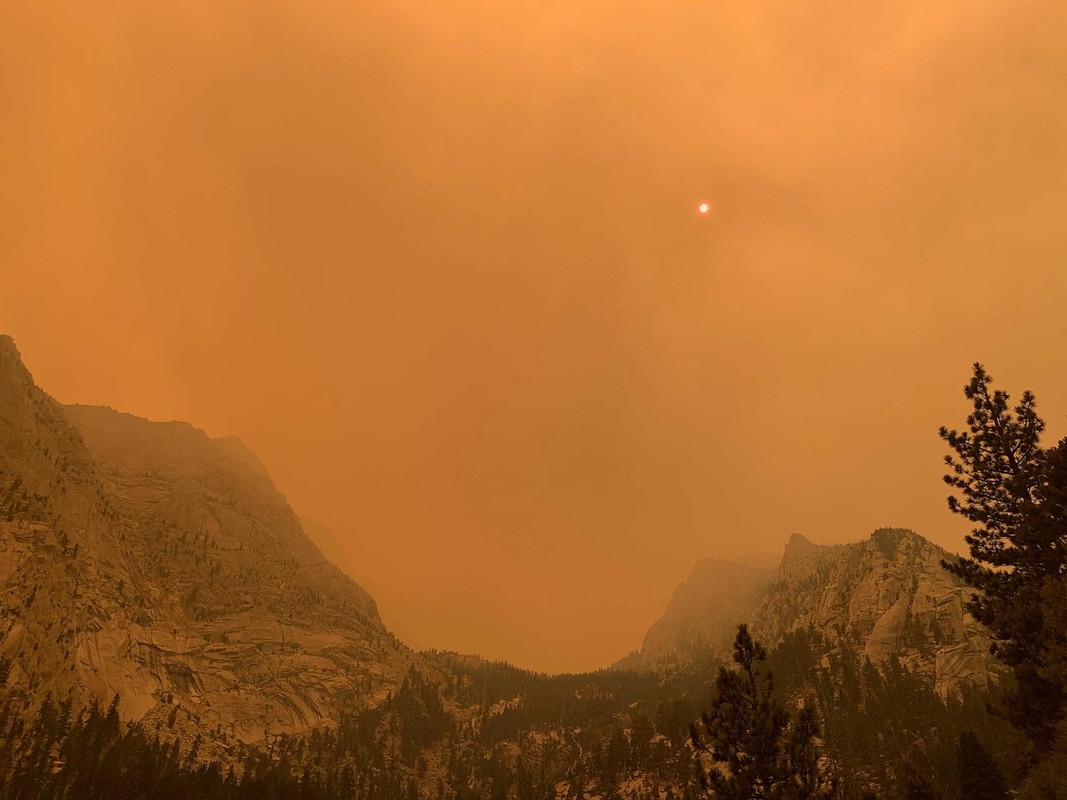 From my last attempt on 9/7/2020--hiked to Lone Pine Lake and had permits to hike the next day... only for the forest to shut-down due to the fires (photo wasn't edited... the smoke was so bad!)
3
385
Trip Reports

Re: 8/7/22 - Freel Peak
NVG
08/11/22
05:19 PM
Its a nice peak glad you got to swing by and enjoy it. I was up there doing Freel, Jobs, Jobs sister loop for the tenth or so time this weekend. Great loop to get the lungs working.
1
182
General Discussion

Re: Technical Resourses
futbol
08/11/22
04:59 PM
I usually camp near Tyndall.

As for Williamson, the most difficult part for me is navigating the rock field in the bowl. I use AllTrails for assistance, but do not depend on it.

I also turn around and abandon trips. Yes, that sucks, but it beats the alternative.
3
222
General Discussion

Technical Resourses
805_backpacker
08/11/22
01:58 PM
Hi All -

Looking to bag some of the more technical peaks and would like some references for the most complete information (routes, waypoints, camping spots, approaches, etc.) Mixed reviews of "Climbing California's Fourteeners" book, many saying route description woefully inaccurate, incomplete, etc. I've been in the mountains enough to know what my limits are and when to turn around (done it plenty, but sucks), and want to avoid that. Looking for class 3 max at this point, no experience with ropes or protection yet. Any and all input is welcome. Looking at Tyndall and Williamson.

Thanks,
805
3
222
General Discussion

Mt Sill - Any opinions on the North or South Fork?
climby_climber
08/10/22
09:30 PM
Planning on bagging Mt. Sill this Saturday on either the North or South Fork route. Just trying to gauge at what people think of the two options. The approach from the North fork sounds more manageable, but getting up to glacier notch is making me a little nervous. People who tried to gain glacier notch, while avoiding the Palisade glacier, say they made some low class 4 moves on some very loose and precarious terrain. This doesn't sound very fun, but this late in the season, I'm assuming we'd have more options to avoid the ice. If gaining glacier notch is as loose and steep as something like the Red Rocks on Mid Pal, I'm not too worried then. I'll be going with Benefar, so it's just going to be a party of 2, so rockfall risk could probably be mitigated there. I'm just trying to see how bad this option really gets through people's experiences.

The alternative is the South fork route to avoid the Palisade glacier altogether. Only issue here is that I've heard the bushwacking and approach is horrendous. Plus Scaruffi describes a stream crossing on the southfork which "may be impassable after rain", which the Sierras have gotten a lot of recently. I don't know if that's an exaggeration, but that doesn't sound too promising either.

So, what do you guys think? Play our cards right on the North Fork or just endure the bushwacking slog on the South Fork? Any preferences/comments would be greatly appreciated.
0
125
Trip Reports

8/8/22 - Attempt of North Peak
jackeichler
08/09/22
07:28 PM
Second day of Sierra peak bagging, and decided to check out the Conness Glacier drainage via Saddlebag Lake. The goal was to hit North Peak via the southwest face/Conness Lakes basin. Things were looking splendid as I was going across the Saddlebag Lake dam at 6:15 am and it appeared to be a bluebird day in the making. Got up above the second of the Conness Lakes around 8:40 am, and was about 250 feet below the summit of North just before 9:00 when rain storms came out of nowhere from the southwest. They didn't appear to be thundestorms, but it started to rain quite heavily and suddenly and I decided it was best to make a fast retreat back down to the lakes. The forecast on Mountain Forecast the day before called for clear skies and no precip all day, but that's not the first time a weather forecast has been wrong. It was still great to explore the Conness Lakes basin and see the Conness Glacier up close (what's left of it), and I'll know the route cold the next time I go. I ascended on the southwest side of the creek up from Greenstone Lake, which required a little bit of boulder hopping, but found a nicer use trail on the way down that comes down the northeast side of the creek. I then crossed the creek back to the southside of the lake just before the lake. I also suggest circumnavigating the south side of the first Conness Lake once you ascend the creek drainage from Greenstone. It is a nice use trail with minimal rock hopping, and going on the north side on the ascent required me to circumnavigate a big cliffed out ledge that dropped right into the lake. Not a huge deal, but it reqired some going up and down and a few minor class 3 moves on slabs that can be avoided on the south side of that lake. Finally, I discovered on my quick descent a use trail that descends a bit above the second Conness Lake and feeds more directly to the drainage of that lake. On the way up I stayed a bit closer to the lake and went past the lake (west) and then ascended up steeper slopes on the edge of the trees to gain the summit plateau. Not a huge deal, but it would definitely be a bit more direct and a bit less steep to ascend more directly from the east side of that second lake. View of Mt. Conness from first Conness Lake: [img]
https://drive.google.com/file/d/1G7NIFfigPxT89hvfGQHZMiVz8Rqr2rHj/view?usp=sharing
[/img] View of Mt. Conness and Conness Glacier from above second Conness Lake: [img]
https://drive.google.com/file/d/1bgcRMmXzUm5M95VcDhzNv6QSPogM9y_u/view?usp=sharing
[/img] So close to the summit of North Peak: [img]
https://drive.google.com/file/d/14jTga6igqvGxw2OUtuv6fGzBk2x1cT7O/view?usp=sharing
[/img] Beautiful view of North Peak from Greenstone Lake: [img]
https://drive.google.com/file/d/11SXqG3e6LF3ydXuJYZ15cUdSuKJzgBYt/view?usp=sharing
[/img]
0
140
General Discussion

Shepherd Pass or Kearsarge Pass
WanderingJim
08/09/22
04:22 PM
So, I was supposed to start up Shepherd Pass today, but canceled my permit last week since I'm recovering from a dislocated finger I suffered during a Yosemite hike in July. The finger is functional, but still sore.
I got a new permit for Sunday for Shepherd Pass hoping it'll be better, then found a Kearsarge Pass permit for the 21st.
The problem with doing Shepherd Pass with the sore finger is I plan on climbing Mt Williamson. I'm not sure I want to trust the class 3 chimney climb with a dodgy finger. Anyone who has climbed that route care to chime in on if it's not as scary as the route descriptions make it seem?
Ironically, the last time I tried to do Williamson in 2019 I dislocated the SAME finger on my way up Shepherd Pass. Someone doesn't want me climbing Williamson.
If I wait to do the hike from Kearsarge Pass, then I have some route options once I get up and over Kearsarge Pass:
1a) Go through Center Basin (never been through there, so it'll be a nice change from Forester (opinions on that?), then up the final bit of Shepherd Pass. An extra day to get to Tyndall/Williamson, but don't have to start as low and a little more time to get used to the altitude.
1b) Go over Forester Pass instead.
2) Camp at Charlotte Lake, then go up and over Glen Pass and spend a couple nights at Rae Lakes (which I missed doing during my JMT hike).
2b) How is the Baxter Lakes Trail to exit out from Rae Lakes?
3) If I continue NOBO on the JMT from Rae lakes, any good side trails to exit from that might be interesting?
I've already done the Onion Valley to Whitney hike on the JMT (plus the entire JMT two years ago), so not looking to do that route this time.
So, any suggestions on what routes to do from these two trailheads would be welcome.
0
201
General Discussion

Re: Info on Le Conte from the West
Madbutcher
08/05/22
02:30 PM
Thank you Steve for clarifying. Hopefully we can shorten the route a little. I think we will go that way instead of off the back of Langley. I thought Secor's class 2 description to the west was referring to this trail to soldier lakes. We will have to assess Le Conte if or when we reach Iridescent Lake.

The Mountains are calling and I'm going!
4
721
Trip Reports

Re: July 19th Mt Whitney - Experience Pays Off
Jammer
08/04/22
05:56 PM
Originally Posted by RichardK
Great report and pictures. Thanks for posting. It's sad to see that some people felt the need to plaster the Trail Crest sign with stickers. From August 16, 2000:
Thanks for the kind words. I completely agree about the sign. I hiked from the western side to Whitney Portal via Trail Crest in 2018 and I don't recall the stickers at that time. Not a fan...
6
832
General Discussion

Re: Info on Le Conte from the West
Steve C
08/04/22
03:21 PM
Originally Posted by Madbutcher
We are also planning to stay "high" and wrap around under the Major General but if it's bushwhacking might be better to drop down lower to the stream at NW end of LSL.
No no! If you drop down, THAT's where the bushwhacking is. Heading north above upper Soldier Lk is open. I just didn't go high enough. It is clear open forest up slope, no bushes.
4
721
General Discussion

Re: Info on Le Conte from the West
Madbutcher
08/04/22
01:17 AM
Thanks for the info Steve. We are also planning to stay "high" and wrap around under the Major General but if it's bushwhacking might be better to drop down lower to the stream at NW end of LSL. I will post a report of the trip.
First we have to figure out if we can get to Cottonwood lakes trailhead Monday on Horseshoe meadow road.
4
721
General Discussion

Re: Portal Open?
Jake J
08/03/22
05:26 PM
Does anyone have any experience taking Moffat Ranch Rd.>Movie Rd>Hogback Rd. to the Portal? Apparently these roads are still open, and the Whitney Portal campground is still open.
10
1,991
General Discussion

Re: Portal Open?
Jake J
08/03/22
05:24 PM
I called the Eastern Sierra Visitors Center (Inyo NF) and they think the Portal Road may be closed for several more days, but didn't know for sure.
10
1,991
General Discussion

Re: Portal Open?
foxtrot
08/03/22
01:17 PM
Is the County providing any update to when Portal Road will be open?? Two days, 10 days, two weeks?? Hopefully they are giving some guidance on this.
10
1,991